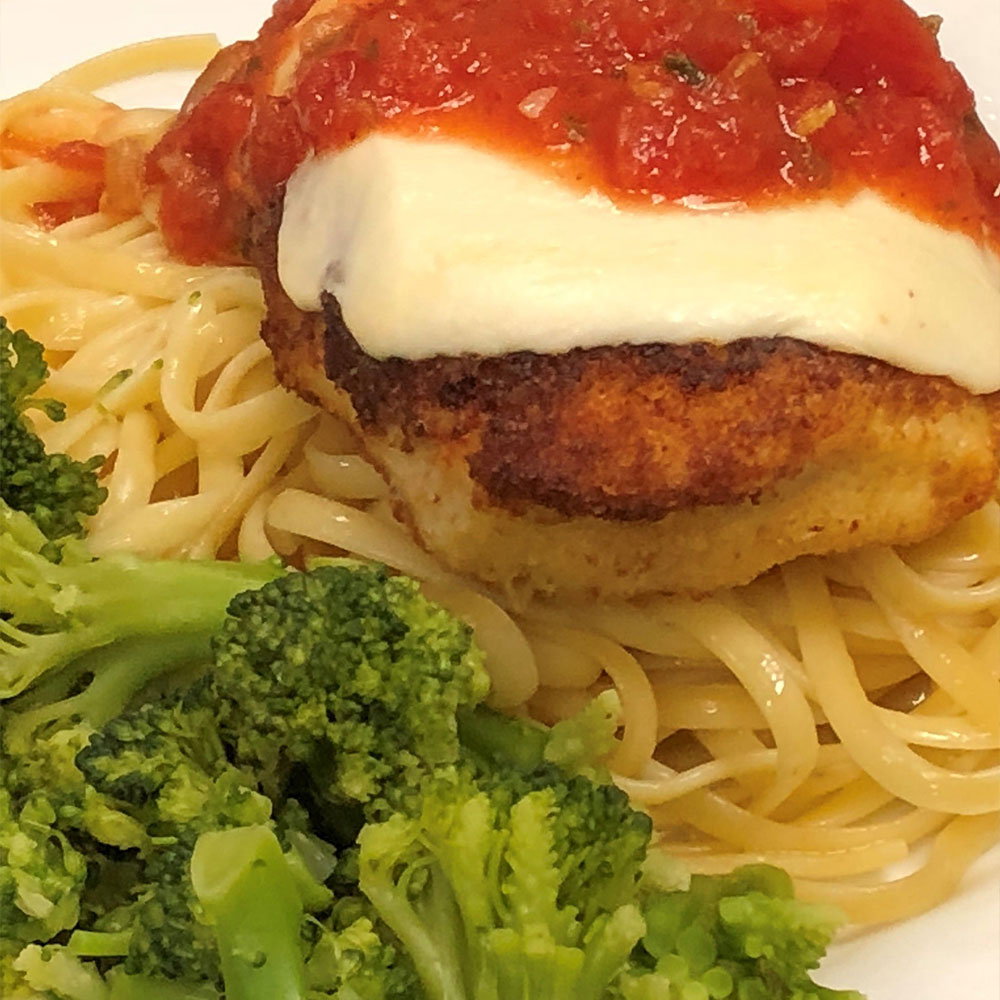 Ingredients
¼ Cup + 3 Tbsp. Extra Virgin Olive Oil
1 Medium Onion, Chopped
2 Garlic Cloves
1 Cup Basil Leaves
Pinch of Sugar
½ Cup MIES ORIGINAL BREADING (Or Your MIES BREADING of Choice)
1 (8 Oz.) Fresh Mozzarella, Water Drained
4 Skinless, Boneless Chicken Breasts, Cut Thin
2 (28 Oz.) Whole Peeled Tomatoes, Drained & Hand Crushed
1 Lb. Spaghetti, Cooked Al Dente 2 Large Eggs, Lightly Beaten
1 Tbsp. Water
1 Cup Bread Crumbs
Fresh Grated Parmesan
Instructions
In a sauté pan, heat olive oil over medium heat. Add the onions and garlic. Cook and stir for 5 minutes until fragrant and soft. Carefully add the tomatoes. Hand tear basil leaves and add to tomato sauce. Cook and stir until liquid is cooked down and the sauce is thick, about 15 minutes. Season with sugar. Season with salt and pepper, to taste. Lower the heat, cover, and keep warm.
Preheat the oven to 450°. Setup assembly line of ingredients: Put MIES BREADING in a shallow platter. Combine eggs and water in a bowl-beat until frothy. Put bread crumbs on a plate-season with salt and pepper, to taste.
Heat 3 Tbsp. of olive oil over medium-high heat in large oven-proof skillet. Dredge both sides of chicken breast in MIES BREADING, then dip it in egg wash (coat completely and let excess drip off), then dredge in the bread crumbs. When the oil is hot, add the chicken and fry for 4 minutes on each side until golden and crusty, turning once– internal temperature of chicken to be at or above 165°.
Ladle the tomato sauce over the chicken and sprinkle with mozzarella, parmesan, and basil. Bake for 15 minutes or until the cheese is bubbly. Serve hot with spaghetti. Serve & Enjoy!