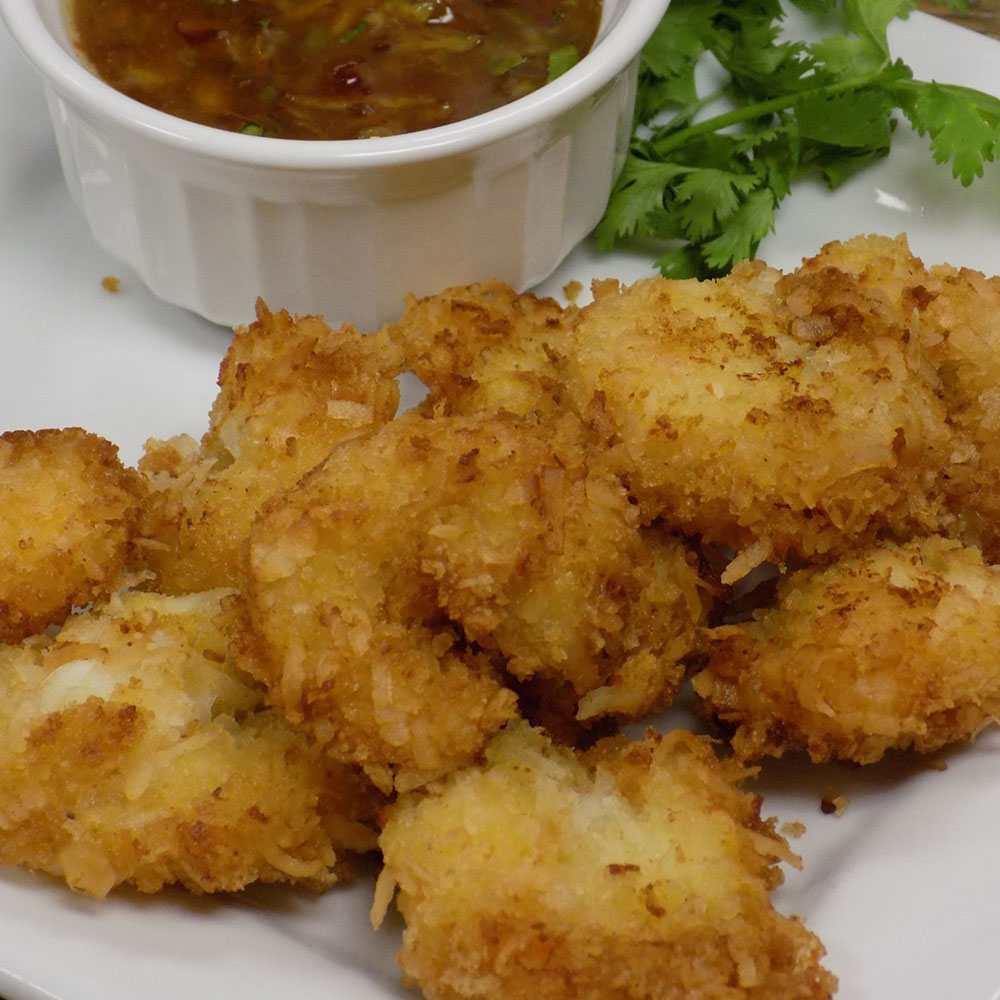 Ingredients
2 Large Eggs, Beaten
1 Cup Sweetened Shredded Coconut
¾ Cup Panko Crumbs
Oil for Frying Recommend a Canola-Vegetable Blend or Canola Oil
½ Cup MIES ORIGINAL BREADING (Or Your MIES BREADING of Choice)
1 Lb. Raw Large Shrimp, Peeled & Deveined with Tails On
Instructions
=== SHRIMP DIRECTIONS ===
In a small bowl, add MIES BREADING. In a separate small bowl, add the beaten eggs. In another small bowl, mix coconut and panko crumbs.
In a large skillet, heat oil at medium-high heat. While oil heats, begin battering the shrimp. Dredge shrimp in MIES BREADING, dunk in egg, and then dredge in the panko crumbs/coconut mixture (pressing it on as needed to ensure shrimp is well coated). If there is remaining coating after all shrimp have been battered, you can re-dredge and coat again, if desired.
Add the battered shrimp in small batches (4-6 at a time), to the hot oil, frying for about 2 to 4 minutes. Flip shrimp as necessary when frying. Fry until desired crispiness and darkness is achieved. Once cooked, remove shrimp from oil and place on paper towel-lined plate. Continue frying shrimp batches until all the shrimp is cooked. Serve & Enjoy!
=== SAUCE DIRECTIONS ===
In a small bowl, mix marmalade and chili sauce. Add a pinch of cayenne and salt, to taste.
Serve shrimp and sauce immediately.
Cooking Tip ~ Frying in small batches helps the oil stay hotter which ensures a crispy crust. And frying time will vary based on pan size, shrimp size, and personal preference.